Calibration Gas Mixtures
SIP Analytical calibration gas mixtures are available in lightweight aluminium alloy cylinders which may be purchased outright or supplied on a rental basis. Three alternative cylinder sizes are offered.
Calibration gas mixtures
are also known as span gases, and they are used to calibrate instruments that provide information on gases present in a confined atmosphere. Instrument calibration may be done daily, weekly or monthly depending on the facility and the gases tested.
Calibration is essential to ensure that the detection instruments are working properly to gauge the levels of
High Purity Gas
for a safe work environment.
Workers in confined spaces including in underground work spaces, in petroleum or natural gas refineries, or in
HAZMAT
facilities or who work with chemicals all need instruments to regularly check the composition of the air around them. Firefighters may use these instruments as well.
Toxic or combustible gases in many areas must be monitored for workplace safety. Both an excess of oxygen and a depletion of oxygen may also be measured. In most cases, these instruments are the only defence for workers against dangerous concentrations of gases in the atmosphere as such hazards tend to be odorless.
SIP Analytical are Established suppliers of Calibration Gas Mixtures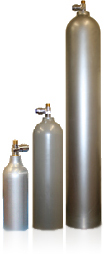 How are instruments calibrated? Gas is first measured and then placed in the detector to ensure that it registers the correct amount.
Speciality Gases
and mixtures may be reactive or non-reactive. Reactive gases are unstable, and this means that moisture, oxygen and other chemicals and substances may affect them. These mixtures might include such gases as chlorine, hydrogen sulfide, ammonia and sulfur dioxide.
Non-reactive gases are stable and thus have a longer shelf life than reactive gases. The shelf life may be as much as 3-5 years. Gases in a non-reactive mixture may include propane, methane, carbon monoxide and carbon dioxide.
The cylinders containing calibration gas mixtures vary in size, material and construction depending on how often the mixtures are used and on their application. Instruments properly calibrated with quality gas mixtures are an essential component of workplace safety.